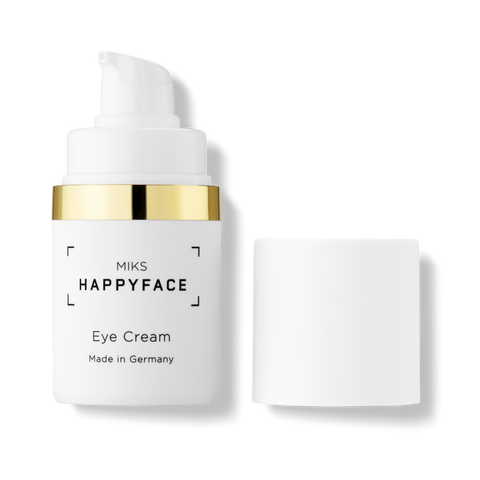 EYE CREAM
98% unserer Kunden empfehlen das Produkt weiter🌟

Show more
The moisturizing Eye Cream by Miks Happyface was developed to counteract dark shadows, dark circles and puffiness in the sensitive eye area. Enriched with valuable ingredients such as avocado oil, shea butter and niacinamide, it intensively cares for your skin and guarantees an anti-aging effect. Avocado oil moisturizes and gently smoothes the skin, while shea butter strengthens and soothes the skin barrier. Niacinamides stimulate collagen production, reduce wrinkles and fine lines. Our eye cream is suitable for all skin types and lets your eye area shine.

Anwendung
Apply the rich lip balm generously to your lips. For the perfect care in between, simply carry it with you in your bag and you always have your beauty companion at hand.
Wirkstoffe
Shea Butter, Almond Oil, Jojoba Oil, Argan Oil, Canola Oil, Vitamin E, Antioxidants
Our Promise

über 40.000 zufriedene Kunden
Reduziert Augenschatten ✔️

Anti-Aging ✔️

Regt Kollagen an✔️
Niacinamide & Sheabutter ✔️

Straffere & kräftigere Haut✔️
Eine reichhaltige und aufbauende Augencreme mit einer aufhellenden Kombination aus Niacinamiden, Avocadoöl und Sheabutter für eine straffere, kräftigere Haut.

Unsere hochwirksame Augencreme ist ein effektives Mittel gegen Augenringe und Zeichen der Hautalterung. Ihre intensive Wirkung basiert auf einer sanften Formel, die speziell entwickelt wurde, um die Augenpartie zu revitalisieren und zu pflegen.
Die außerordentliche Wirksamkeit verdanken wir einer einzigartigen Kombination hochwertiger Inhaltsstoffe:
Niacinamide: Dieser Inhaltsstoff ist bekannt für seine aufhellenden Eigenschaften, die das Erscheinungsbild von Augenringen reduzieren und für eine gleichmäßigere Haut sorgen.
Avocadoöl und Sheabutter: Diese natürlichen Feuchtigkeitsspender versorgen die Haut intensiv mit Feuchtigkeit, um sie geschmeidig zu halten und feine Linien zu minimieren.
Rindenextrakt und Kupfer PCA: Diese Inhaltsstoffe wirken synergistisch, um die Elastizität der Haut zu verbessern und Anzeichen der Hautalterung zu bekämpfen.
Beta-Carotin und Jojobaöl: Sie unterstützen die Regeneration der Hautzellen und stärken die Hautbarriere, um die empfindliche Augenpartie zu schützen.
⭐️⭐️⭐️⭐️⭐️ 5 / 5

I love it!! Sehr sehr gut, meine Augen fühlen sich aufgepolstert auf, auch die Schatten um die Augen sind deutlich minimiert.Hinterlässt ein schönes Gefühl um die Augen.

Oct 11, 2023
⭐️⭐️⭐️⭐️⭐️ 5 / 5

Eine sehr angenehme augencreme, Nutze sie jetzt schon länger und bin sehr zufrieden

Sep 28, 2023
⭐️⭐️⭐️⭐️⭐️ 5 / 5

Absolut begeistert

Sep 28, 2023
Kostenloser Versand ab 40€ ✔️ 1-3 Werktage Lieferzeit✔️ Sichere Zahlung ✔️ 14 Tage Rückgaberecht✔️ Kauf auf Rechnung ✔️
Shipping
ab 40€ kostenfreier Versand nach DE
Weitere Informationen findest du hier.
Weitere Informationen zu unseren Rücksenderichtlinen findest du hier.
Bei Fragen rund um unsere Produkte oder zu deinem individuellem Hautbedürfnis hilft dir unser Customer Care Team gerne weiter.

Schreibe uns eine E-Mail an:
info@miks-happyface.de

oder nutze das Kontaktformular.